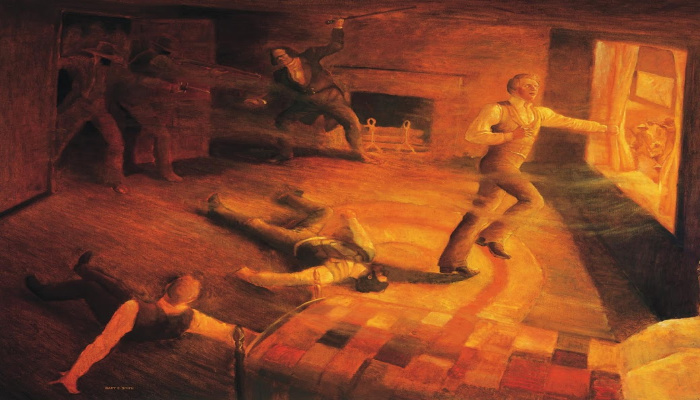 Today is a historic day in the history of The Church—exactly 175 years ago the Prophet Joseph Smith and his brother Hyrum were martyred at the Carthage jail in Carthage, Illinois. What was Joseph's legacy? Why do we remember this Prophet nearly two centuries after his work was completed? Elder McConkie said,
In 1829 the Lord gave information of unsurpassed importance to the people of our time when he said to Joseph Smith, his latter-day seer, "This generation shall have my word through you" (D&C 5:10).
Indeed, Joseph Smith was at the forefront of the Restoration of the Gospel of Jesus Christ in these latter days. Resultingly, families can be sealed together, the gift of the Holy Ghost can be received, the Priesthood is available to bless families, and the darkness of apostasy has given way to a glorious flood of light and truth.
Today, it can be easy to cast aside the magnitude and validity of Joseph's impact due to an endless stream of information available seeking to discount his prophetic calling. As Moroni prophesied, his name has been "had for good and evil" from the time he saw God the Father and Jesus Christ while praying in a grove of trees, to three minutes ago when a missionary in Maryland was probably berated for recalling that sacred event.
This day 175 years ago was one of the darkest days The Church has ever known.
The son of Hyrum Smith and sixth President of The Church Joseph F. Smith reflected on that sorrowful time:
I saw his lifeless body together with that of my father after they were murdered in Carthage jail; and still have the most palpable remembrance of the gloom and sorrow of those dreadful days (E. Cecil McGavin, Nauvoo the Beautiful, p.149).
Former apostle Parley P. Pratt added,
"A strange and solemn awe came over me, as if the powers of hell were let loose. I was so overwhelmed with sorrow I could hardly speak…This is a dark day, and the hour of triumph for the powers of darkness"
Nevertheless, despite the bleak circumstances in which the Saints found themselves in following the death of these two remarkable men, the Lord was still with them. An amazing account from the mother of Joseph and Hyrum, Lucy Mack helps illustrate this truth.
As she cried in agony, 'My God, my God, why hast thou forsaken this family?' Lucy Mack Smith reported hearing a voice reply, 'I have taken them unto myself, that they might have rest.' As she looked at their bodies, she said, 'I seemed almost to hear them say, 'Mother, weep not for us, we have overcome the world by love; we carried to them the gospel, that their souls might be saved; they slew us for our testimony, and thus placed us beyond their power; their ascendancy is for a moment, ours is an eternal triumph.'
Just a couple of days ago, President Ballard, the current acting President of the Quorum of the 12 Apostles, offered his thoughts on the importance of remembering the lives of Joseph and Hyrum Smith.
"My feeling is we have to stand in awe, in reverence and deep appreciation for their courage, their spirituality, their integrity, and their love for the Lord Jesus Christ. They were willing to give their lives, if required, to restore the gospel of Jesus Christ. So you are talking about two great men, perhaps as great of sons of God who have ever lived, with the exception of the Savior, of course, Who is the greatest of all. Every Church member should know and think about that."
Joseph and Hyrum admirably gave their lives for the cause of Jesus Christ.
In closing, President Russell M. Nelson encouraged us to follow the Prophet Joseph Smith in seeking the necessary revelation to guide our lives.
Brothers and sisters, how can we become the men and women—the Christlike servants—the Lord needs us to be? How can we find answers to questions that perplex us? If Joseph Smith's transcendent experience in the Sacred Grove teaches us anything, it is that the heavens are open and that God speaks to His children.

The Prophet Joseph Smith set a pattern for us to follow in resolving our questions. Drawn to the promise of James that if we lack wisdom we may ask of God, the boy Joseph took his question directly to Heavenly Father. He sought personal revelation, and his seeking opened this last dispensation.
We echo the words penned by W.W. Phelps in the well-known hymn "Praise to The Man"
"Praise to his mem'ry, he died as a martyr; honored and blessed be his ever great name!…Death cannot conquer the hero again."