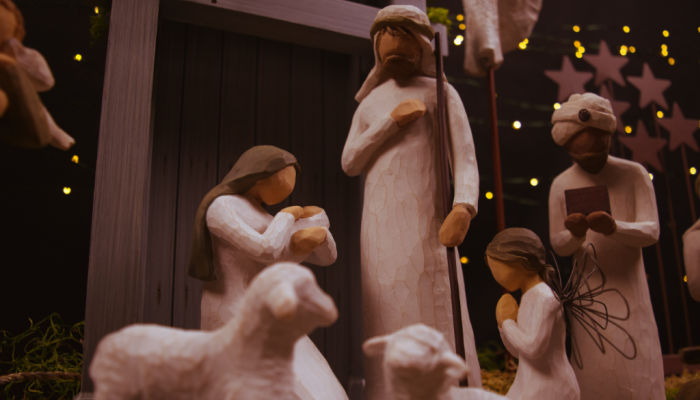 Travelling has not been a huge part of this year, but that doesn't mean that we can't go on a little virtual trip around the world. Here are 11 nativity scenes from around the world to cure any of your recent travel itches.
South Africa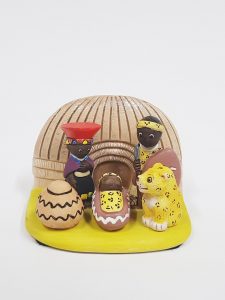 The nativity is actually representative of multiple African countries because it is actually a Zulu nativity. It represents Zimbabwe, Swaziland, South Africa, Lesotho, Malawi, and Botswana. You can find this nativity on Etsy.
Poland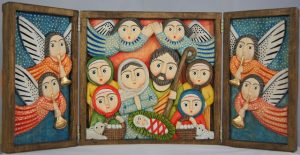 This is a Polish Christmas Triptych, a Christmas tradition in Poland. These are generally made on connected pieces of wood that fold out into a beautiful nativity scene. Three panels are most common, but smaller triptychs have 1-2 panels instead. Traditional folk artists hand carve these beautiful works of art.
Portugal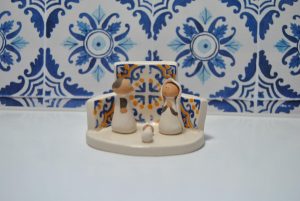 This nativity is made of ceramic tile. This product is handmade in Palmela, Portugal. Thier Etsy shop also offers handmade nativities made of cork. This small shop started just this year, what better way to support a small business during the holidays.
Related Link: Live Nativity Video Released 
Kenya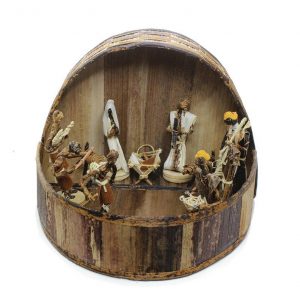 This nativity is made from banana leaves. Just this year, an Etsy shop was created to raise funds for the Rising Rio FOundation. The proceeds from all of thier products go toward this foundation. This organization supports black maternal health and single mothers. The shop also carries traditional African toys.
Jordan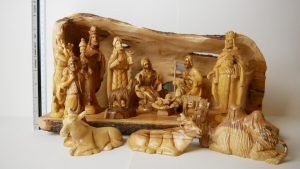 Nativity scenes made of olive wood from olive trees in Jordan may be the perfect touch to your home this holiday season. A nativity like this one has a deep spiritual meaning because it ties the birth of Christ to his atonement in Gethsemane. In Hebrew, the meaning of the word "Gethsemane" is "oil press."
Guatemala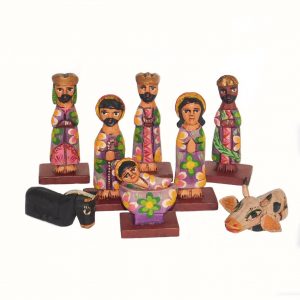 Another Etsy shop on this list is Casa De Los Gigantes, based in Antigua, Guatemala. This shop has been open for business since 2011. They feature many authentic Guatemalan products as well as more touristy items.
Estonia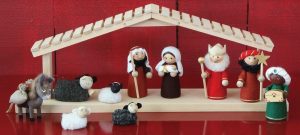 This is a very Norwegian nativity scene made of felt and wood. Surprisingly, this item used to be available at select Deseret Book locations. So many artists use nativities like this as inspiration for thier own creations. That is why we see have seen peg doll nativities become so popular recently. Not to mention that they are pretty adorable, I mean just look at that donkey.
Vietnam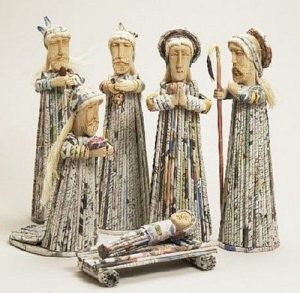 On top of being from Vietnam, his nativity scene is also sustainable. It is made of recycled rolled newspaper and covered in lacquer. This extra touch ensures that it will last longer than regular paper mache products. Nativities similar to this one can be purchased online, this one was found on the Magellan Traders website. Vietnamese nativities are generally made of this material or they are crocheted.
Philippines

World Nativity is a website where you can find nativities from all over the world. Each one has a different cause attached to it. This nativity is from the Philipines and it is made of broom materials. The sale of this nativity, in particular, goes towards supporting The Women's Multipurpose Cooperative. The WMC is an organization that creates jobs for women in Baguio City, Philippines. Because the women there are such skilled weavers, it only seems right that this nativity was created using those beautiful skills.
Related Link: The Second Nativity Scene 
Samoa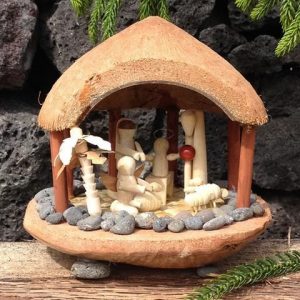 This called a Samoan Fale Créche because it is supposed to resemble what a traditional Samoan home looks like. Each element in this nativity represents a different part of the Polynesian culture. This nativity includes a woven mat, a coconut shell, and volcanic rocks. The mini coconut tree is a nice touch.
Sri Lanka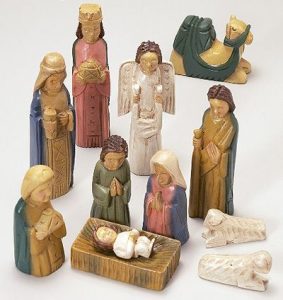 At first, it was surprising to me that this nativity exists because the Christian population of Sri Lanka seems so small. Only 7% of the country is Christian, but that equates to about 21 million people.
Which of these nativity scenes was your favorite? Share in the comments.