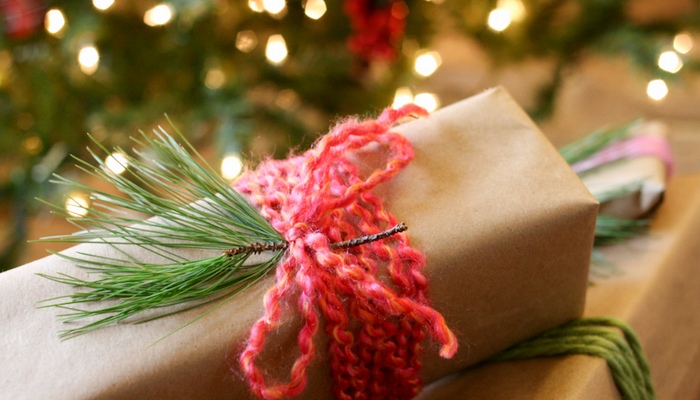 It is so important to support small businesses, especially this holiday season when so many small businesses are struggling due to COVID-19. Here are 15 pieces of Christmas art from talented artists that will help you decorate your home for the holidays.
Brooklyn Swenson

Brooklyn Swenson is best known for her modern folk style gouache paintings. She has so many Christmas prints in her shop that follow both styles. You can find her work on Instagram and Etsy.
The Minimal Print Co

Prints from this minimalist shop are a subtle way to add the Christmas spirit to your home. You could even leave these pieces up in your home all year if you want to. Minimalism is a growing trend and this is a great way to continue it into the holidays.
LAKoerner

This adorable little print depicts a young shepherd boy looking at the manger from afar. A print like this would be unique considering that most other prints are Christmas trees or entire manger scenes.
Related Link: LDS Artist Infuses Faith into His Art 
Bean Street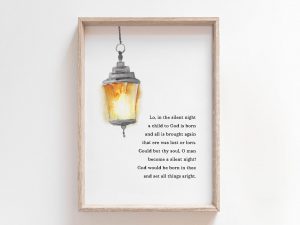 Another unique Christmas piece comes from Bean Street on Etsy. This piece doesn't immediately give off Christmas vibes, but it is the perfect complement to any other Christmas decor you may have hanging in your home. This shop also offers Christmas print bundles.
Type Clad Co

This shop specializes in lettering, so they mostly have quotes for various seasons, including Christmas. This is another great piece that is festive but will not compete with other decorations that you have.
Winter Pickle Press

This Etsy shop mostly specializes in cards. While this is a Christmas card, you can always frame it and stick it on your desk for a nice Christmas touch. Sometimes a bunch of small framed cards is the most affordable way to decorate.
Lynsey Prints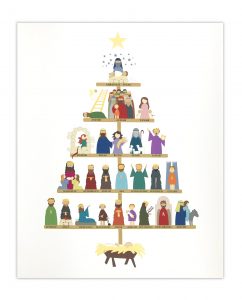 Not only is this a unique Christmas tree, but it also shows us the lineage of Jesus. This piece is unique and a great way to teach kids about genealogy and Jesus during the holidays. This shop specializes specifically in religious art.
Prints by Jetty Home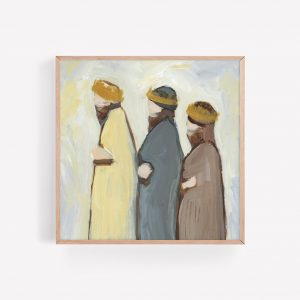 These wise men are the perfect addition to a Christmas art wall. This shop offers a whopping 57 holiday prints ranging from generic holly prints to original painted Christmas art. They even carry prints for Hanukkah!
Lo and Behold Paper Co.

If you love Christmas music, these two prints will be some of your favorites. "O Holy Night" is a beautiful song with meaningful lyrics and these two prints really capture that. These two lyrics are also very relevant to our current social situation.
Small Miracle Prints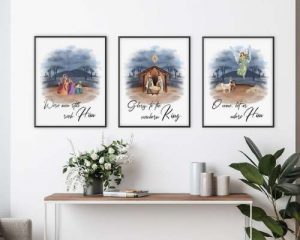 This three print set is perfect for someone who has a lot of empty wall space. This shop offers three other multi print holiday sets for your home. Personally, I'm a big fan of sets, so if you like them, this shop is for you.
MinMac

This beautiful C.S. Lewis quote is a sweet and unexpected way to share the Christmas spirit with those who may enter your home this holiday season. This great quote is all about perspective and that is something that we might all need a little bit of after 2020.
Kristen Stephanie Art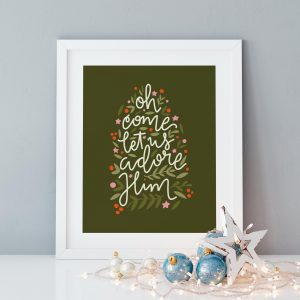 If you like Christmas music, here is another cute twist on the classic Christmas tree print. This lyric is from the classic song, "O Come All Ye Faithful" and it makes for a wonderful piece of Christmas art.
Related Link: Christmas Art Showcase Brings Together Work of Latter-day Saint Artists 
Whitney Rain Studio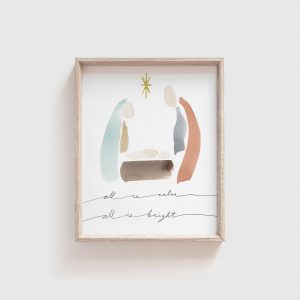 This nativity scene features the sweet Christmas lyrics, "all is calm, all is bright." This is a  wonderful sentiment to focus on this Christmas, with so much chaos and darkness happening in the world. This shop offers their prints as holiday cards as well.
Beloved Print Shop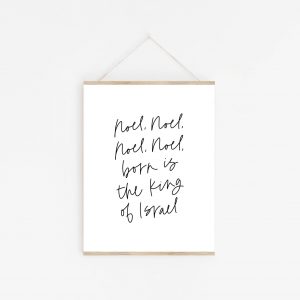 This Christian Etsy shop offers holiday prints in a modern and clean style for those who like to keep it simple. These lyrics are from another Christmas classic, "The First Noel." Prints like this are great, especially if you have a special connection to a specific song.
Sweet Little Ones Shop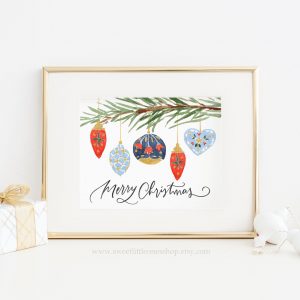 For our last Christmas art piece, we are taking it really classic. This piece just your famous "Merry Christmas" but it is still adorable and has the potential to stand out or work seamlessly with your other home decor.
Which of these art pieces is your favorite? Will you be hanging any of these in your home? Share in the comments.