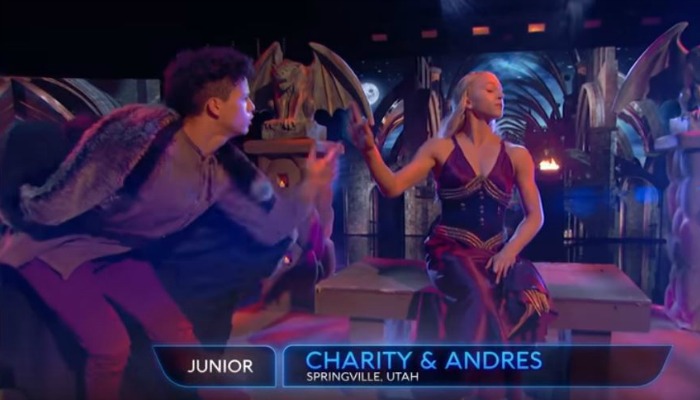 Charity Anderson and Andres Penate are both Latter-day Saint dancers from Springville, Utah, who have been dancing their way up the ladder on NBC's World of Dance. For a little history on how they've done this season, check out this article. This week they've been making headlines because the duo chose to perform despite Anderson's recently broken toe. See the performance below to Halsey's hit song, Castle:
Ne-Yo
"With everything that just happened on this stage, your toe—are you in any pain right now? I gotta be honest, that honestly—not that it needed it—but that makes what just happened that much better for me."
Misty Copeland (Guest judge)
"Women are the strongest beings on this planet and then you add being a dancer on top of it and you're not going to see the pain on your face. But what I have to say is that, um, so much of our balance and our groundedness and our strength comes from our feet. So the fact that you were still able to do that with a broken toe just says so much about how strong you are technically and physically as a dancer."
Jennifer Lopez
"Andres, for you this was a stellar routine. You really shined in this routine. We got to see all of your athleticism, all of your strength. I think you guys did an amazing routine tonight."
Derek Hough
Derek (also a Latter-day Saint) expressed his surprise at how well Charity performed despite her broken toe, but his other comments, if any, weren't included in the final edit of the show.
The facts
Anderson broke what appears to be her big toe on her left (dominant) foot a few days before their performance. In the latest episode she says how it happened: "I was on his shoulders and I fell backwards and I landed first on my head, and then my foot swung over and smashed into the floor."
Anderson transitioned to use her right foot as her dominant foot to make this performance more doable.
Charity and Andres (first place) received a score of 93/100, edging out competitors Sean and Kaycee (second place), who were eliminated with a score of 92.3/100, as well as fellow Latter-day Saint, Jaxon Willard (third place), who was also eliminated with an 87.8/100 score.
After the remaining Junior Division competitors performed, the judges revealed their scores for each performance. Charity and Andres came out on top, at which point Derek Hough said, "You're the champions of your division, that is huge. Next week this is it, this is it. The performance of your lives for a million dollars, so no pressure, alright?"
Latter-day Saint dancers have been a hot topic in recent years. One of the current final four dancers on the TV show So You Think You Can Dance is also a Latter-day Saint. Her name is Jensen Arnold, and she's doing great. Charity, Andres, Jaxon, and Jensen are all from Utah. The state has attracted a lot of media attention for producing such skilled dancers that do so well on competition shows like SYTYCD, World of Dance, and Dancing With the Stars. Must be something in the water.
UPDATED: Final Results
Charity and Andres finished third on NBC's "World of Dance" Season 2 World Final on Wednesday night. The Lab finished in first place, followed by Michael Dameski in second. Charity and Andres have expressed their appreciation for the experience of participating in "World of Dance," and will continue to push themselves to improve in the coming years.
Read the full article at the Daily Herald.
Read this interview with Charity and Andres and see how faith and priesthood power helped them succeed.