On April 10th, President Russell M. Nelson, Elder Jeffrey R. Holland, and their wives will begin an 11-day trip to visit members and missionaries in eight different cities across the globe.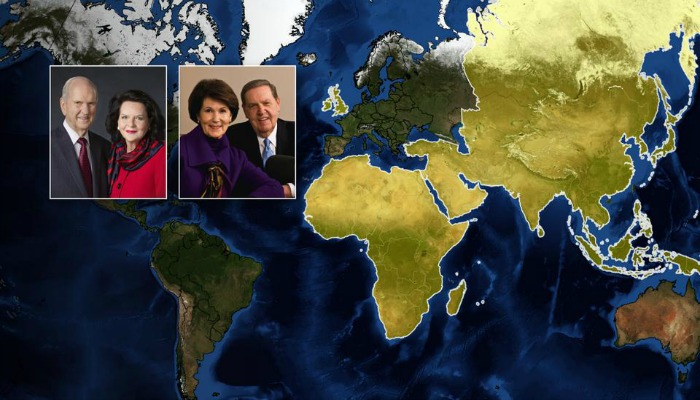 Here's a snapshot of their itinerary:
April 12: London, England, with a broadcast throughout the entire United Kingdom.
April 14: Jerusalem, Israel, at the Brigham Young University Jerusalem Center.
April 16: Nairobi, Kenya, including a broadcast to the whole country.
April 17: Harare, Zimbabwe, along with a countrywide broadcast.
April 19: Bengaluru, India. The first LDS meetinghouse in India was dedicated in 2002.
April 20: Bangkok, Thailand, where regular worship services have existed since 1961.
April 21: Hong Kong, where there are now 25,000 members and a temple.
April 22: Honolulu, Hawaii, on the grounds of Brigham Young University Hawaii.
Mormon Newsroom has more details about each location, including further particulars on the history of The Church of Jesus Christ of Latter-day Saints in that particular area. And if you want to see how each part of the tour goes, Mormonnewsroom.org will also be covering each event, providing pictures and videos.
The announcement of this historic global tour tells us three things:
The spirit really does quicken the body. How else can President Nelson, at the tender age of 93 years old, and Elder Holland at 77 years old can act so young and sprightly as to visit so many different cities and countries in quick succession—especially right after General Conference?
This is a global church. We really do have members all over the world.
Our Church leaders care about all of us—regardless of ethnicity or economic status. Like God, they are no respecter of persons. Every nation that works righteousness is accepted by Him.