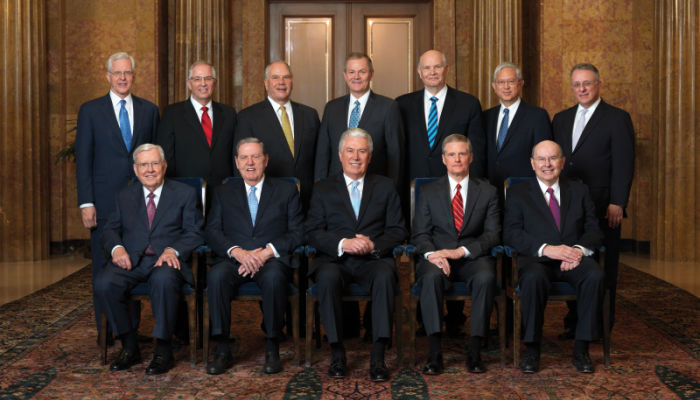 Well, folks, we are heading into month six of the COVID-19 pandemic/lockdown. I'm sure you've felt a range of emotions and found some super creative ways to pass the time. I know I have! Seeing a post from our prophet, President Nelson, this week made me wonder what our prophets and apostles have been up to during this crazy time.
Luckily, the First Presidency and Quorum of the Twelve Apostles all use their social media accounts quite frequently. Let's check them out and see what they've been doing!
Related: 4 Ways You Can Prepare for the Re-Opening of Latter-Day Saint Temples
Ulisses Soares
Elder Soares took some time to remember his Brazillian ancestors. He even made a video about it! I think it's a great idea to remember our ancestors and do some family history while we're staying home.
Today I am reminded of the love and sacrifices of the pioneers in my home country of Brazil. The pioneers in Brazil mean a lot to me because they paved the way for me. I am a recipient of the blessings that they have given me through their examples. pic.twitter.com/2cNWVR05I2

— Ulisses Soares (@Ulisses__Soares) July 22, 2020
Gerrit W. Gong
Elder Gong decided to really start "blooming" and did some gardening with his wife! I'm glad I'm not the only one who took up gardening during the pandemic. He wrote a great post about learning to slow down when times get hectic.
Dale G. Renlund
Elder Renlund has put a big focus on the temple, even though they're closed right now. He was part of a super neat video that taught me how I can focus on my temple covenants during this time. How will you apply his teachings?
Although our access to the temple right now is limited, it doesn't change the impact the temple can have on us. Until our temples fully reopen, I pray we can keep our covenants, and by doing so, access the power of Godliness in our everyday lives.https://t.co/74xi1kE58v pic.twitter.com/wwxIW1olhN

— Dale G. Renlund (@DaleGRenlund) August 3, 2020
Gary E. Stevenson
Meanwhile, Elder Stevenson has been pondering the fact that the Restoration of the gospel is still happening today. This is a great thing to remember, especially when changes happen in the Church. God is always revealing things to His prophets and apostles!
The Restoration did not occur as a single event. Rather, the Lord revealed things "line upon line" (2 Nephi 28:30) to Joseph Smith just as He continues to reveal things to His prophets today according to His purposes and timing.

— Gary E. Stevenson (@StevensonGaryE) July 5, 2020
Ronald A. Rasband
Elder Rasband is busy preparing for a Face to Face event that will be happening on September 13th. On his Instagram, he left an invitation to those who will be tuning in. While it's tailored to young adults, everyone can gain inspiration from this event! Will you be watching?
Neil L. Andersen
It looks like this apostle has been going through some old family photos! Elder Andersen shared an adorable photo of himself riding a horse as a young boy. He left some great words of encouragement that you won't regret reading.
D. Todd Christofferson
Elder Christofferson invited us to read our scriptures with the extra time we've been given. He shared a powerful testimony about how we can be supported during this time if we do so. BRB, grabbing my scriptures!
We have a prime opportunity to "feast on the words of Christ" while we have a little more quiet time. This is the time to learn to "hear Him" more consistently. I testify that God will support you if you will turn to Him (see Alma 38:5). All are included in this promise.

— D. Todd Christofferson (@ChristoffDTodd) May 22, 2020
Quentin L. Cook
Elder Cook asked us to think of this time as an alarm clock awakening us unto God! I have definitely felt the Spirit calling me to repent and grow closer to my Heavenly Father these last few months. What about you?
As we now spend a considerable amount of time at home, we have a chance to think about awakening unto God. Perhaps recent events can be a spiritual alarm clock focusing us on those things that matter most.

— Quentin L. Cook (@CookQuentinL) May 5, 2020
David A. Bednar
According to a recent Instagram post from Elder Bednar, he has been exercising during the pandemic! I wish I could say the same. This apostle always does a fantastic job with metaphors and this one was no different. Check out this inspiring post!
Dieter F. Uchtdorf
I was brought to tears by Elder Uchtdorf's recent article titled, "Don't Mask Your Heart." He has been using a lot of technology these past few months to stay close with his family. It is crucial that we maintain these eternal bonds!
I believe we should use the technological tools available to us to build deep social connections with God's children. I invite you to read the article I have written on this topic.

— Dieter F. Uchtdorf (@UchtdorfDF) July 9, 2020
Jeffrey R. Holland
Elder Holland has been utilizing something he calls "character time." He was blunt, as per usual, in his most recent post when he called us to repentance. We should be using this time to "search our souls," he said!
M. Russell Ballard
Elder Ballard shared his testimony of fasting. Remember the incredible experience of fasting with the entire world? While COVID-19 may not be over yet, I know that this fast brought (and continues to bring) miracles. What miracles have you seen from fasting?
I am grateful for the opportunities we have had to fast and pray for relief from the COVID-19 pandemic. As we face the future, I hope we will continue to pray.

I know that good women and good men, united in prayer and faith-filled effort, can change the history of the world.

— M. Russell Ballard (@BallardMRussell) April 22, 2020
Henry B. Eyring
President Eyring has such a powerful testimony of the Savior. On all of his social media accounts, he has posted countless times about the love Jesus Christ has for all of us. I am so grateful for these reminders!
Dallin H. Oaks
Of all the prophets and apostles, President Oaks has been the quietest on social media. I'm sure he is using this time to get some rest and time with his cute family. The one thing he has posted since General Conference was a beautiful testimony of the scriptures.
Because we believe that scripture reading can help us receive revelation, we are encouraged to read the scriptures again and again. By this means, we obtain access to what our Heavenly Father would have us know and do in our personal lives today. #HearHim pic.twitter.com/Q7ExUiAP3X

— Dallin H. Oaks (@OaksDallinH) June 25, 2020
Russell M. Nelson
Oh, how I love President Nelson. I especially love this picture of him vacuuming in his home. Even the prophet has to do chores! He has posted quite a bit on social media during the COVID-19 pandemic. However, I especially love his thoughts on the sacrament.
Related: Prophets and Politics: What Have They Said?
I am overwhelmed with gratitude for living prophets who guide our church today. Social media is incredible! Even during the months between General Conferences, we are never left without guidance from our leaders. Follow them and you will never be led astray.
Did any of the prophets and apostles activities give you inspiration? Let us know how you'll be spending the next month of quarantine in the comments below! Stay safe!