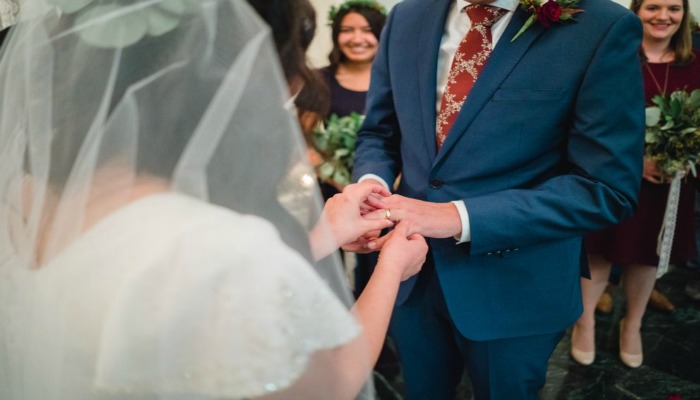 On my wedding day, my dad gave the best toast ever. He is Italian, and his toast exceeded the Italian-dad-toast-stereotype. He even quoted The Godfather.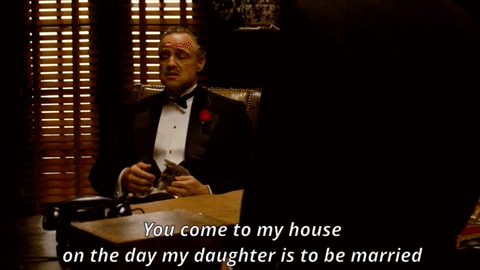 Yes, that line. He nailed it.
One of his anecdotes centered on my lifelong attribute of indecisiveness.
When I was little, choosing anything—even a Popsicle flavor— was painful. My dad used to hold two flavors up for me, side by side, and ask which one I wanted. I would say, "I don't know" or "You pick!" but my dad wanted me to choose by myself. So he waited. By the time I reached a decision, they'd be melting in my dad's hands. Apparently these Popsicle choices were so representative of me that he couldn't leave them out of his roast—I mean toast.
"To Angela, and her indecisiveness. Salute!" Just kidding. That's not what he said. If I remember right, the whole point of the anecdote was to compare my natural indecisiveness to how sure I was about my husband. My dad's a sweetie.
But here's the thing. Even though I am completely sure about my husband choice, I haven't exactly outgrown my indecisive nature.
I bought three styles of bridesmaid dresses, three engagement rings, and two wedding dresses during my six-month engagement. Obviously, becoming a wedding planner is not on my list of feasible careers.
Decisions, Decisions
Making choices has never really been my jam. The decision-making process actually makes my brain hurt. I'm always afraid I'll make the wrong choice, even in morality-neutral situations. I haven't exactly moved past the Popsicle dilemma. Here's an actual real-life example from my life earlier this week:
Which type of cream cheese should I put on my bagel? Or no cream cheese?
When I absolutely have to make a decision, I sometimes forego the process altogether and just choose one option randomly.
Alright! Strawberry cream cheese it is.
Then, of course, I regret my decision immediately.
Well, this is gross. Should have gone with cereal. 
As you can imagine, wedding planning was not my favorite thing.
My job as a bride was to make seemingly crucial decisions every day. (Emphasis on seemingly.) All my decisions affected other people. All my decisions cost money. For an indecisive girl who wants to please others and hates spending money, this was…the worst.
To add to my stress, I was trying to forge relationships with my new family, and I also wanted to make sure my own family knew I still loved them and wasn't abandoning them. Trying to stack all these factors up and come to a conclusion felt impossible. Believe me, this was 99% an internal crisis. My whole family and in-laws were very accommodating of my vision.
It's too bad "my vision" equated to confusion and helplessness.
People kept telling me, "It'll all be worth it," and "You'll be so glad you had a big wedding," and "Haven't you been dreaming of your wedding day your whole life?" But none of that helped. Every beautiful wedding I saw on Instagram or Pinterest led me to turn to my fiancé and say, "Wanna elope?"
We didn't elope. Everyone was right—I'm so glad we had a wedding. However, I wasted a lot of money by following the bagel and cream cheese decision-making model. Because I wanted the decision to be made and over with, I ended up making poorly thought-out decisions, which I regretted later. That's how we arrived at three bridesmaid styles, three rings, and two wedding dresses.
Wedding Dress #1
Right after my husband and I set a wedding date, I visited my family in Arizona. My mom, being the wonderful, excited mom she is, suggested we go dress shopping during the short window that I was in town.
I didn't make any appointments with bridal shops or do any research on my own. All I knew was that I didn't want a lace dress.
My entourage (grandma, mom, sister) and I  breezed into a few bridal shops. Our second stop was to a very fancy, very lacy shop. I felt overwhelmed by all the zeroes after 1's and 2's and 3's on the price tags, so I booked it to the clearance section.
I found a nice, simple, lacy dress with mesh sleeves and an open back. The price was right, so I tried it on. I kind of liked how it looked.
My grandma advised me not to buy it just because it was cheap. She told me it would not be worth the cost in alterations. She warned me that getting it altered wouldn't guarantee that it would end up looking the way I wanted.
I figured I could alter it to make the dress garment-friendly. Girls do that all the time, right? I opted to ignore my savvy fashionista grandma's advice and bought the dress.
Back in Provo
Unfortunately, that is not the end of the story. I tried to explain my vision for the dress to my seamstress, but my vision still equated to confusion and helplessness.
My dress was ready a few weeks later, and I brought my sister, Olivia, to the fitting. I gingerly took my dress out of the plastic wrapping, put it on, and slipped on my heels. Olivia immediately burst out laughing.
It was awful.
I had told the seamstress to put lining in the sleeves, which made it look like I was wearing a Downeast Basic under my dress. She closed the back by adding corset-style lacing. But it didn't make my stomach look small and accentuate my good features like I thought it would. I looked like a beached whale.
I was devastated. In an effort to save money, I ended up wasting money buying a cheap, immodest dress, and altering it to make it an ugly, modest dress. What made me the saddest was that I knew I would have to wear this dress on my wedding day. I didn't have the money to buy a new dress. Of course, my dad would have been happy to buy me a new dress, but I didn't want to admit to him or to anyone else that I had ruined this dress.
Round Two, Sponsored by Grandma's Mercy
Literally every prophecy my grandma had made about this dress came true.
I was set on not telling anyone it was so bad, but Olivia told my grandma about my fiasco. My grandma sat me down during dinner at a sushi restaurant and asked me about the dress.
I tried to apologize for not listening to her, but she didn't want me to. Instead, she made me a deal. She gave me money to buy a new dress as a wedding gift. I was so thankful for her merciful gift. I still felt a little dumb, but I didn't feel guilty anymore for making such a rookie mistake.
A few months later, I found a wedding dress I fell in love with— on Provo Clothing Swap, of all places.
Although making so many poor decisions makes for funny stories, if I could go back, I would definitely make different decisions.
Here are some suggestions for like-minded indecisive brides:
1. Start by envisioning your perfect wedding day.
Watch it all happen in your mind. Imagine where you are. What season is it? Are you outside or inside? Imagine what you look like. Are you in a striking ball gown or a simple dress? Imagine who is there. Is it an intimate crowd or a huge party? Does it feel formal or relaxed? Traditional or trendy? What kind of food are you eating?
Last, imagine your groom. If it's not your fiancé, you've got bigger fish to fry than planning a wedding!
2. Create Pinterest boards of dresses, flowers, and decor you like.
This will help you connect images with the perfect day you envision.
3. Decide on a budget before making any concrete decisions.
What is most important to you? Food, music, flowers? Devote the most money to your top priority. Devote less amounts of money to elements of the wedding that mean less to you.
4. Download wedding planning apps to get a checklist of everything you need to get done.
There are a lot of wedding apps out there to choose from. I used The Knot's Ultimate Wedding Checklist and I found it really helpful!
5. Check out LDS wedding planning articles to know how to modify those checklists to a shorter timeline.
Let's be real: most of us don't comply with the rest of the world's wedding timeline. Instead of giving ourselves a year at least, we usually give ourselves around four months. This article provides a realistic LDS timeline.
6. When in doubt, start on Wedding Wire.
They have everything. Caterers, venues, photographers, florists, wedding planners, etc. You can narrow your search based on your geographical area and on your budget. This is an ideal site, especially for brides planning from a far distance (like I did). They even give you digital gift cards when you choose their vendors.
7. Choose a venue before buying a wedding dress.
Most reception halls and venues book several months in advance, so if you're planning on a short engagement, you may have to be flexible on your exact wedding date to get the venue you want. Also, many venues have discounts during weekdays and the off-season, which is usually January, February, and March. If you're looking to save money, it may be worth it to change your wedding date.
Choosing a venue will determine the formality-level of everything else: food, attire, and decor. A beach wedding calls for a different dress than a mansion wedding. It seems obvious, but choosing anything else before the venue can create problems.
8. Keep an open dialogue between your fiancé, his family, and your family.
They all might have strong opinions that clash. Take a deep breath. Decide how much you care about the decision that's being made. If you don't care very much about what the mantle decor is like but some other relative does, then let them be in charge of mantle decor. That being said, be sure to hold your ground about decisions you care about.
9. Don't be afraid to delegate.
One thing I wish I would have done differently was saying, "YES!" when people asked, "Do you need any help with wedding stuff?" Whether it's invitations, planning, or just venting to someone, giving people responsibilities will make you feel better and help them feel you value your help. It's a win-win.
10. Dress shopping rules to live by:
Make appointments
Do your research
Bring photos of your dream dress
Gather your dress shopping entourage carefully. You want people with you who will support you in your choice, rather than imposing their ideas on you.
Decide if renting or buying a used wedding dress is a good fit for you. If you're like me, you'll find your dream dress online. It had only been worn once (as many wedding dresses are), it was in great condition, and it was a fraction of the price I saw in bridal shops.
Have your bridesmaids find their own dresses. Give them a spectrum of colors to choose from, photos of styles you like, and let them find dresses they'll feel comfortable in. It will save you so many headaches. It's not easy finding one dress all your girls will like, look good in, and that fits with your wedding style!
11. Don't feel like you have to do every wedding tradition just because it's a tradition.
We didn't have a wedding cake! And guess what? No one cared. Or noticed. Any wedding tradition you find unnecessary, trite, or stupid doesn't have to be part of your day.
Remember, this really is your day.
People are right when they say, "This is your day." Of all the days in your life, your wedding day is the only one completely devoted to you choosing your future husband. You're not making choices every day that are as trivial as which Popsicle flavor you want, but remember that all the wedding choices you make will be over in one day. No one will remember what kind of flowers you had, or how the mantles were decorated. In fact, you may not even remember those things after your wedding day. You'll remember how you felt. And you'll remember that you chose your husband.
So, know that the most important wedding decision has already been made—the man you're marrying. I hope your wedding planning feels more like a celebration than a constant stress fest. You deserve it. Happy planning!