Today. Right now. This very instant. It seems that everyone has a smartphone with a reason locked and loaded, ready to use it. Oh, you have a smartphone, too? Then you may agree how wonderful it is that instant gratification has been made a top priority in our era.
But wouldn't it be incredible if we brought that wired enthusiasm into sharing the gospel? LDS.net has compiled a guide of all the best mobile apps for Latter-day Saints.
So whether you're an experienced troop leader for the Scouts who has no idea how to work an iPhone or a hip Sunday School teacher in a YSA ward, this guide is for you.
Note to the reader: Some of these apps are different for iPhone and Android depending on the device. If an app is available for iPhone, it may have a similar counterpart available for Android, though the functions may differ. This also applies to the price. Some things that are free for Android may not be free for the iPhone and vice versa.

Also, some of these apps aren't officially Church sponsored. Many of them are, but some aren't. Please take that into consideration when you download an app especially if it requires additional purchase.
Essential Mormon Apps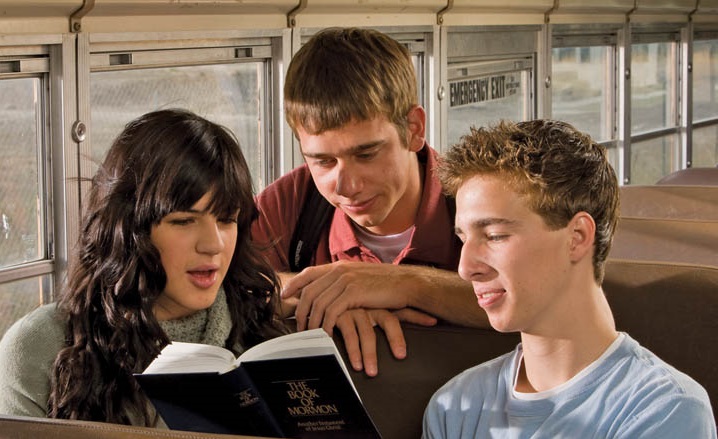 Gospel Library
Contains every scripture, magazine, map, and reference that you could ever need in a single app. This includes all of the General Conference talks and Sunday School manuals as well! Sign in to your lds.org account and you can make notes and highlight as you study. The best part of the app is that is opens up to the last item you were on. Never lose your place in your scriptures again.
The Book of Mormon
Whether you have the Gospel Library app on your device or not, this app features the Book of Mormon in many languages, includes audio for easy listening, and uses simple navigation. You can share easily with a nonmember or read the Book of Mormon in your spare time.
Full Tithe—LDS Tithing Tracker
Keeps track of your fast offerings, missionary funds, and tithing throughout the year. One click to view past donations and your totals for the year. Go to tithing settlement already knowing your numbers with this handy app.
LDS Tools
Sign in with your lds.org account, and this app provides ward and stake directory information for your area. This app allows you to look up the phone number of your Relief Society President or Ward Mission Leader no matter where you are—or any other ward member's calling for that matter. It also includes the stake calendar, just in case you lost your ward newsletter.
Pinterest
Provides a variety of DIY projects for adults, teens, and children, gift ideas for the holidays, recipes, inspirational quotes—especially around General Conference, and ideas for those who need to prepare for the next ward potluck or talent show. The app now includes a messaging option that allows you to send Pins to those you are connected with on Pinterest.
LDS Temples
Not only acts as a directory for LDS temples where you can find phone numbers, addresses, temple websites, but also gives members an opportunity to track temple attendance. The app also features photo galleries, history, and the dedication prayer for each temple.
Available for: Android
Price: Free
Rating: 5/5
Mormon Emojis
Mormon Buzzz released this free app on September 25, 2016, for iPhone, iPad, and iPod touch users. Mormoji incorporates LDS-themed emojis like missionary name tags or hymn books.
With plans to release a version for Android users, Mormoji could be your next favorite app.
Apps for Personal Study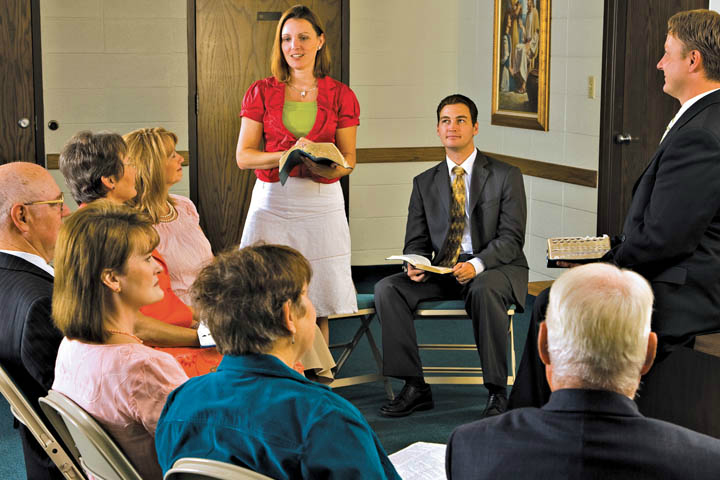 The Mormon Channel
The official media channel for The Church of Jesus Christ of Latter-day Saint now available as an app for iPhone and Android. Keeps users updated with Mormon Messages and other video series, uplifting music and talk radio streams, audio recordings, and Church magazines. Now it even includes links to blogs for your enjoyment.
LDS Scripture Citation Index
Have you ever wanted to find a talk that references a particular scripture? Then this app is made for you. An index of every scripture in the standard works links you to every use of that scripture in talks given by the general authorities.
Scripture A Day Widget
Receive a scripture from the Old Testament, Book of Mormon, New Testament, and Doctrine and Covenants straight to your smartphone home screen. Since this is a widget, it will display on a homescreen, readily available for your spiritual edification. Wake up to a new scripture each day!
Available for: Android
Price: Free
Rating: 4.1/5
LDS Words of Wisdom
A daily quote containing wisdom from the scriptures or Church leaders. Each quote is back-dropped by awe-inspiring nature photographs. Each quote can easily be shared through all main social media outlets.
LDS Articles of Faith
For quick use, all of the Articles of Faith are now available on a single app. This app includes tips and games for quick and easy memorization, including a quiz and a word scrambler. The app even provides the 13 Articles of Faith in varying languages.
LDS Family Night
An elaborately detailed and fun app created by the Le Debut team for Family Home Evening and other family related activities. This app offers customizable agendas, such as who gets to offer the prayer, make the treat, plan the activity, and more.
Available for: iPhone
Price: Free
Rating: 4.5/5
A Brand New FHE App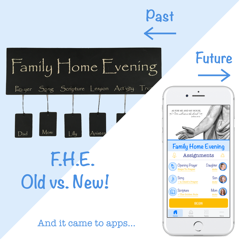 Released in February 2018, LDS-Family Home Evening is available in the Apple App Store of your iPhone or iPad. It takes about five minutes to initially set up. From there, each weekly family night can be planned in one minute. It includes content (links and ideas for songs, lessons, activities, and treats) for more than two years of Family Home Evenings without duplication. It's clean, simple, customizable, and includes iMessage stickers.
Available for iPhone, iPad
Price: Free
LDS Talk Tool
Keep track of talks, scriptures, or quotes for your own talk or lesson at church. This app is integrated with Gospel Library to make it easier to organize talk or lesson ideas in your gospel study. You can also export to your computer for easy access.
Available for: Android
Price: Free
Rating 4.6/5
LDS Ponderize
Instead of printing or writing out your scripture to ponderize each week, this app easily transfers your scripture verse to your lock screen for easy and frequent viewing. Includes reminders to ponderize throughout each day and weekly reminder to add a new scripture.
Available for: iPhone
Price: Free
Rating 4.2/5
Bible Videos
Have the official Life of Jesus Christ Bible Videos easily accessible on your device. Watch high quality videos that will strengthen your faith and understanding of Christ's life and ministry. Videos stream over your Internet connection.
Apps for Your Calling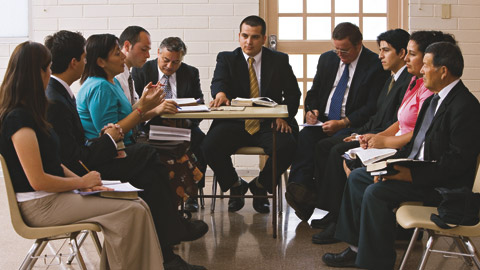 LDS Priesthood Ordinances
An app that fulfills all of your ordinance questions and needs. Forgot the exact wording to give a blessing to the sick or afflicted? It's all right here in this app. Need a refresher on how to give a child a name and a blessing? Click this app. Never stumble over your words again with just one tap.
LDS Counter
For those who have been called to take attendance in Sacrament, Relief Society, Priesthood, Young Women, Scouts, or any position where counting is involved, the LDS Counter is an excellent app for this duty. This app allows you to record, label, and report on attendance for any meeting.
Available for: Android
Price: Free
Rating: 4.4/5
LDS Art
Have all the paintings, photos, and illustrations from the Gospel Art Library at your fingertips. You can easily access gospel art for lessons, FHE, or personal use. Keep all of your gospel art in one place with this easy-to-use app.
Available for: iPhone
Price: Free
Rating: 4.8/5
Musical Apps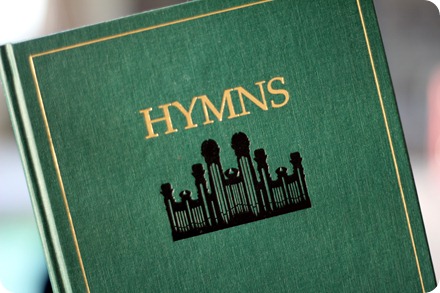 LDS Music
Find LDS hymns and children's songs in the official Hymn app from The Church of Jesus Christ of Latter-day Saints. Includes sheet music and audio for each hymn found in the Hymn book or Children's Songbook, with additional children's songs for Primary. Find all of your LDS music in one place!
LDS Hymns with Notes
An app that provides hymns in two formats: one with sheet music and another with text only. All of these LDS Hymns are provided to you in English, Spanish, Portuguese, and French. This app also allows you to find hymns by page number, title, lyrics, topic, author, and composer. Swipe left and right to go to the previous or subsequent hymn.
Mormon Tabernacle Choir
Take the world famous Mormon Tabernacle Choir with you, no matter where you go. With a library of sacred music, you can listen or watch old favorites, stay updated with the choir's blog, shop in the mobile store, and purchase tickets for upcoming events. This is an official app from The Church of Jesus Christ of Latter-day Saints.
LDS Animated
Teach your young children Primary songs using your phone. This app plays music videos with beautifully animated stories along with your favorite childhood hymns. The lyrics scroll at the bottom of the screen so your kids can sing along. The songs are available in English, Spanish, French, and Portuguese.
Apps for Kids
LDS Word Search Weekly
If your children need extra incentive to be reverent during Church meetings, use this word search app to keep them focused on gospel themes. With a new puzzle every week, this app helps you become familiar with scripture terms, names of prophets, or even the Articles of Faith.
Available for: iPhone
Price: $5.99
Rating: 4.1/5
LDS Memory
Keep your children occupied with this gospel-centered memory game as numerous temples, current prophets and apostles, and other gospel topics are scrambled to be matched. Great option for keeping the kids quiet during long meetings or helping children to learn the names of the General Authorities.
Available for: iPhone
Price: Free
Rating: 4.4/5
LDS Hangman
Remember the days of playing gospel hangman on the chalkboard? Now you can have the same fun without the mess. This game offers a fun challenge for children while focusing on gospel topics and Mormon phrases. Includes easy, medium, and hard levels of difficulty.
LDS Kids 123
Provides topics to practice for preschool kids and toddlers. Subjects range from reading and writing to math and other cognitive games. Offers different ways of learning for complete understanding. Starting them early has never been so easy.
Available for: Android
Price: Free
Rating: 4.1/5
LDS Fun
Keep you child entertained at church with illustrated gospel games. This app allows your child the opportunity to learn gospel principles and be reverent while painting, doing puzzles, playing matching games, connecting the dots, and finishing gospel-themed mazes. This app features the art of Spring McDonald, and is described as "a digital reverent book."
Available for: iPhone
Price: $0.99
Rating 4.2/5
Apps for LDS Youth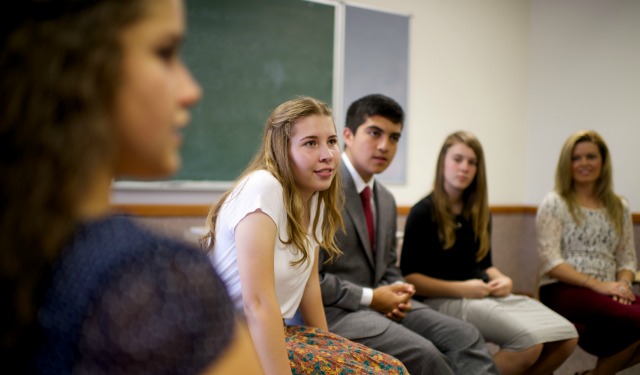 Scripture Mastery
An app designed to help those who attend seminary memorize scriptures in a fun and easy way. Contains all 100 scripture verses required for memorization within the Book of Mormon, Old Testament, New Testament, and Doctrine and Covenants. App provides multiple quizzes and puzzles for student use.
LDS Youth
An official Church-sponsored app providing the latest news and articles for LDS youth. Complete with videos, music, and the well–beloved Mormonads, this app engages the youth in a way that is easily shared via social media and is perfect for home or church settings.
Aryv
Pronouced "arrive," this app rewards drivers for locking their phone while on the road. Safe driving gets you points that can be redeemed at businesses in Provo and Mesa. It's perfect for youth who are easily distracted by their phones.
Simple Progress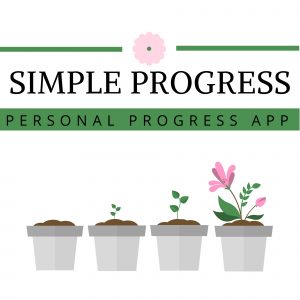 This app enables young women to set daily Personal Progress reminder notifications. It links to lds.org directly. Simple Progress can also send notification emails to leaders, providing instant progress updates. Streamlining the reporting process, improving focus on the value experiences, and encouraging young women to work independently on Personal Progress are the app's main aims. Simple Progress advocates a nag-free way for young women to accomplish their Personal Progress goals. The app is available in Spanish and in English.
Missionary Apps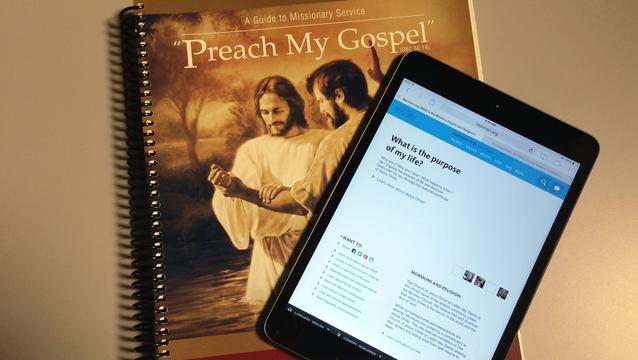 LDS Missionary Prep/Mission Preparation
An app that provides and prepares future missionaries for the field. The app contains everything from the Articles of Faith to clothing needs for missionaries. Other fun items the collection includes are a list of myths about Mormons, a Missionary Parent FAQ, and a Catholic Encyclopedia Entry on Mormonism.
Available for: Android
Price: Free
Rating: 4.5/5
eMissionary
Every member a missionary, right? Well now there's an app for it. Share the gospel on the go as this app includes topics such as marriage and divorce, temple blessings, and the Restoration.
Available for: Android
Price: Free
Rating: 4.1/5
LDS Missions
Provides a full description of what LDS missionaries are, their roles, and where in the world LDS missions have been established. Also includes information about our beliefs. Want to know more about the mission area a friend or relative is serving in? Check out the map, flags, economy, and society options for any mission with this app.
LDS Missionary Tracker
Allows individuals who are close to missionaries to see when they depart and return, and where they will be stationed. A count-up setting lets you know how many days your missionary has been gone, and a countdown setting tells you how many days they have left. Use this app to set a weekly reminder to write your missionary.
Inspired Questions for Missionaries
This unique app helps missionaries at any stage with their testimonies and expressing themselves through the gospel. Developed in a way to encourage deep thinking and pondering in order to discover your personal beliefs and develop them. Use this app in youth discussions or Family Home Evening.
Available for: iPhone
Price: Free
Rating: 4/5
Family History Apps
Take a Name
This app uses your FamilySearch account to help you find names to take to the temple. Take a Name "typically delivers dozens of temple ready family names in a matter of minutes," according to its website. And because the app's creator is a FamilySearch partner, you can use it to reserve ordinances and print temple cards directly from your phone.
FamilySearch Tree
You can take your family tree with you on your mobile device. This app doesn't require Internet access, and automatically syncs with FamilySearch when connected. You can browse your tree on the go, add information, read about your ancestors, or find pictures. This is an easy-to-use and official family history app released by The Church of Jesus Christ of Latter-day Saints.
FamilySearch Memories
Need an easy way to add memories to your family tree? You can easily snap pictures, record audio, or enter stories to your family tree on the go. Take picture with your smart phone of old documents, pictures, and memories, as well as adding memories to your immediate family at graduations, weddings, and family reunions.
Ancestry
Discover more about your ancestors with an app that allows you to research old records for family information. This app works alongside FamilySearch to provide even more historical records, photos, and memories.
Find a Grave
Locate graves of your ancestors with just your smart phone. You can snap pictures of graves and share them, request photographs of headstones, and create bio pages for your ancestors. This app simplifies finding a grave on the go, and makes it easy to locate, research, and add to information about your ancestors.
LDS Laughs Mobile App
Good news! You don't have to wait until the New Era comes to your door every month for the "Extra Smile" cartoon section anymore. Now you have 300+ hilarious LDS comics at your fingertips with the free mobile app LDS Laughs! Mormon cartoonist Arie Van De Graaff will crack you up with gags and jokes on topics like scouting activities, youth antics, sacrament meeting talks, missionaries, scripture stories, ward basketball, and more.
It's important to remember that you don't need to download all of these apps. Pick the ones that you will see yourself using often, especially if you're considering making a purchase. The apps that are funded by the Church (for the most part) should be free, but many of the other apps in this guide are designed by the Church, but aren't funded by it.
As time passes more apps will be designed and released for public use, adding to the LDS app spectrum. But until that time, this guide should carry you through all of your mobile gospel app needs. Happy sharing!