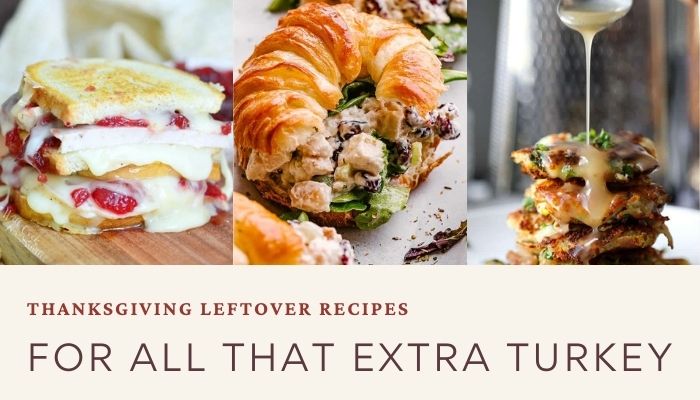 Thanksgiving has passed and it was wonderful, but now you have ten extra pounds of turkey meat sitting in your fridge or freezer that you don't know what to do with. Don't fret, we have you covered. Here are nine Thanksgiving leftover recipes to help you spice up your post-Thanksgiving meal calendar.
Thanksgiving Dinner Sandwiches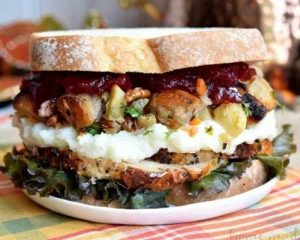 Yield: 1 serving
Ingredients
2-3

s

lices

 

of turkey

1/2

 

cup m

ashed potatoes

1/2

 

cup

s

tuffing

1/2

 

cup

c

ranberry sauce

2 slices of bread

lettuce

, 

optional
Instructions
make a sandwich.
eat the sandwich.
This is one of the classic Thanksgiving leftover recipes. It's all of that Thanksgiving goodness wrapped into one sandwich. Of course, there are things you can leave out if you prefer not to have them in your sandwich. Overall, this customizable thanksgiving leftover recipe is a great way to finish off your turkey.
Turkey Cranberry Sliders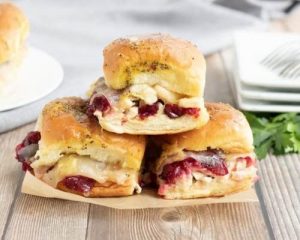 Yield: 6 servings
Ingredients
1 package Hawaiian Sweet Rolls (12 count)
3 cups cooked turkey, diced or sliced
1 cup prepared cranberry sauce
6 slices of swiss cheese
4 Tablespoons of butter, melted
1 teaspoon yellow mustard
½ teaspoon garlic powder
½ teaspoon poppy seeds
Instructions
Preheat the oven to 325 degrees. Line a 9×13 inch baking dish with non-stick foil, or prepare with baking spray.
Separate the Hawaiian Rolls (top and bottom portion) and place the bottom half of each roll into the prepared baking dish.
Layer with turkey, cranberry sauce, and cheese then place the top half of the rolls back on top.
In a small bowl, whisk together the melted butter, mustard, garlic powder, and poppy seeds.
Pour mixture over the top of the buns, and use a brush or spoon to spread evenly over the top.
Cover with foil and bake for 15 minutes.
Remove the foil and bake for 3 more minutes, uncovered.
Serve immediately.
This recipe is great for kids because the sliders are small and easy to handle. Cranberry and turkey is a classic holiday flavor combination. It's hard to go wrong with these ingredients.
Turkey Noodle Casserole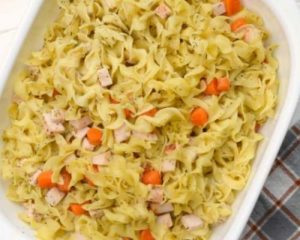 Yield: 6-8 servings
Ingredients
12-ounce pkg Egg Noodles, extra wide
3 cups leftover turkey, diced or shredded
1 cup leftover carrots, diced
2 12 ounce jars of turkey gravy
1 teaspoon dried thyme
1/2 teaspoon salt
1/2 teaspoon pepper
Instructions
Preheat oven to 350 degrees. Spray 9×13 baking dish with non-stick cooking spray.
Prepare egg noodles according to package directions. Drain and place back into a cooking pot.
Add into egg noodles: turkey, carrots, gravy, and seasonings. Stir to combine.
Pour into prepared baking dish. Bake approximately 15 minutes until heated through.
This is more a pasta dish than a casserole, but it looks tasty either way. This is a quick way to throw together a dinner with food that you already have in the fridge. This easy dish is a great way to make food that feeds a whole family.
Thanksgiving Pizza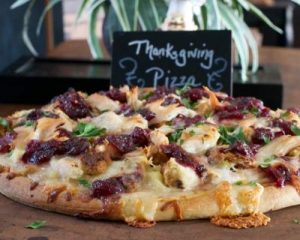 Yield: 1 pizza
Ingredients
Pizza dough (store-bought or homemade)
Brie Cheese
Leftovers

Gravy
Mashed Potatoes
Stuffing
Turkey
 Cranberry Sauce
Instructions
Lay pizza dough out and use gravy as the pizza sauce.
Layer all other toppings on the pizza in your desired order.
Bake in the oven at 350 degrees for 15-20 minutes.
Thanksgiving! On a pizza! Are you kidding me?! Pizza lovers everywhere must unite over this recipe. Every bite has the taste of a whole thanksgiving meal. Thanksgiving leftover recipes don't get any better than this.
Turkey Salad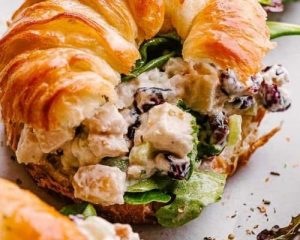 Yield: 6 servings
Ingredients
4

 

cups

 

diced cooked turkey

1

 

cup

 

dried cranberries

2

 

stalks

 

celery,

 

finely diced

1/3

 

cup

 

mayonnaise

1/4

 

cup

 

sour cream

1

 

tablespoon

 

Dijon mustard

1

 

tablespoon

 

lemon juice

1

 

tablespoon

 

chopped fresh parsley

2

 

teaspoons

 

sugar

fresh ground pepper,

 

to taste

salt,

 

to taste
Instructions
Start with cutting cooked turkey meat into cubes, or you can shred it.
Dice a couple of stalks of celery and transfer to a mixing bowl together with the chopped turkey.
Add cranberries to the bowl and stir in mayonnaise, sour cream, mustard, parsley, sugar, and lemon juice; stir until everything is completely incorporated.
Taste and adjust accordingly. Depending on individual taste, you might want to add more mayonnaise to make it creamier.
Serve over buns or rolls. As a low carb option, leave out the bread and serve this turkey salad on lettuce leaves or over some fresh spring greens.
This is a twist on classic chicken salad sandwiches using turkey and cranberries instead of chicken. I personally like to serve my chicken/turkey salad on buttery croissants.
Related Link: Healthy Recipe Makeovers of Your Favorite Thanksgiving Side Dishes
Leftover Turkey Dinner Hash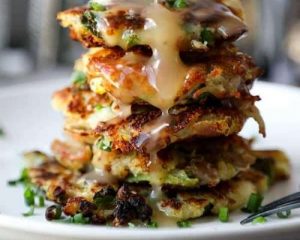 Yield: 3 servings
Ingredients
1 tablespoon

 organic canola oil

1 cup

 leftover turkey (shredded, cooked chicken would work as well)

1/2 cup

 cooked Brussels sprouts (leaves separated)

1 1/2 cups

 mashed potatoes

1/2 cup

 cooked French beans (chopped, or green beans)

1/2 cup

 leftover stuffing

1 tablespoon

 finely chopped chives

1/4 cup

 gravy

1

–

2

 tablespoons sriracha
Note: These are general guidelines. This is more a mash-up of leftovers than an actual recipe. So use what you have handy after your big turkey feast.
Instructions
Mix mashed potatoes, Brussels sprouts, green beans, stuffing, and shredded turkey in a bowl.
Form small patties of the mixture, about the size of your palm.
In a pan over med-high heat, heat the oil and add patties. Cook 4-5 minutes on each side until golden brown on the outside and hot on the inside.
Serve with chopped chives, gravy, and a squirt of sriracha.
This hash looks delectable and is overall a pretty simple recipe. You basically just put all the ingredients you want to include in one place and cook it all together. As far as leftover recipes go, this one is quick and easy.
Thanksgiving Leftovers Quesadilla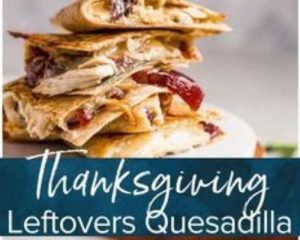 Yield: 4 servings
Ingredients
4

 

whole-wheat wraps

2

 

cups

 

turkey breast

1/2

 

cup

 

cranberry sauce

2

 

cup

 

shredded cheese

 

I used cheddar, asiago, and pepper jack!

1/4

 

cup

 

fresh sage

 

chopped
Instructions
Spray a large skillet with olive oil and heat over medium heat

Place the first wrap in the bottom of the skillet and top with 1/4 cup cheese, 1/2 cup turkey, 1/4 cup cranberry sauce, 1/8 cup sage, another 1/4 cup cheese, and the second wrap. Grill for about 5 minutes on each side, or until melty and delicious.

Take off of heat and cut into fourths to serve. Repeat with other ingredients to make a second quesadilla.
If you are making your quesadillas in the microwave, I am here to ask you to please stop doing that. They taste so much better cooked on a skillet, grill, or in a pan. If your fridge is still full of thanksgiving leftovers but you are craving Mexican food, this might be a good compromise.
Mashed Potato and Stuffing Patties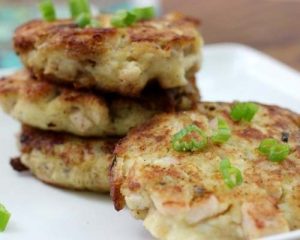 Yield: 12-14 patties
Ingredients
2 eggs, lightly beaten
2 tablespoons onion, finely chopped
¼ teaspoon pepper
2 cups leftover mashed potatoes
2 cups leftover stuffing
2 cups leftover turkey, chopped
2 tablespoons butter
2 tablespoons oil, canola, or vegetable
Instructions
Add eggs to a large bowl and beat, add onions and pepper
Stir in potatoes, stuffing, and turkey
Add butter and oil to a large skillet and heat to medium heat
Scoop potato mixture with an ice cream scoop or spoon into heated skillet
Press down slightly with the back of a spatula
Fry on each side for about 3 minutes or until golden brown
Drain on a paper towel
Serve warm
Leftover recipes like this one are classic. These patties would be great as a dinner side or an on the go breakfast. They look simple enough to make and are another great way to clean out that extra food in your fridge before it goes bad.
Related Link: 13 Hilarious Gifs to Describe Your Thanksgiving Experience
Turkey Cranberry and Brie Grilled Cheese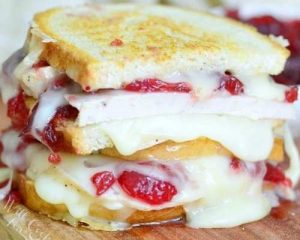 Yield: 1 serving
Ingredients
2

 

slices

 

of seedless Rye bread

3-4

 

slices

 

of roasted turkey breast

3

 

oz

 

Brie cheese

 

rind cut off, thinly sliced

2

 

Tbsp

 

cranberry sauce
Instructions
Preheat a medium saute pan over medium heat and lightly grease it.
Place bread in the pan and separate brie slices among the two slices of bread. Let it start melting.
Layer turkey breast over one slice of bread and then cranberry sauce on top of the turkey.
Cover with a second slice of bread and press lightly.
Finish the grilled cheese until bread is golden and cheese is melted.
These sandwiches look amazing. My mouth is watering just thinking about the flavor combination happening in this picture. Plus, if you can successfully make a regular grilled cheese, you can make one of these.
Which of these leftover recipes will you try this Thanksgiving? Share in the comments.